THE LEAGUE OF EXTRAORDINARILY FUNNY WOMEN – Advance Review

---
"I know that humor does much more than entertain. It heals, it exposes truths, it allows us to talk about hard, difficult, and painful experiences, and it unites. Humor is powerful mojo, and when it's in the hands of women- watch out." – Sheila Moeschen
"THE LEAGUE OF EXTRAORDINARILY FUNNY WOMEN 50 Trailblazers of Comedy by Sheila Moeschen is an empowering and engaging passion project. Sheila has provided the reader with an intimate look into the determination, grit, and rise of 50 rulebreaker women in comedy. Funny gals who have shaped our lives with humor and hard work. The glimpse inside the makings of the minds and careers of some of the most brilliant women in comedy humanizes their humble beginnings, the countless stand-up late nights honing their craft, and the tremendous hard work it takes to arrive, and remain relevant. Luck and the adrenaline of getting a laugh are the driving force and common thread connecting our comediennes, cementing their place in time. Ms. Moeshen's extreme passion for comedy and meticulous care for detail behind every extraordinary funny woman's story provides the reader with an intimate, behind the scenes look at what it takes to turn taboo subjects into humor. Sheila offers us a glimpse of what it means to be a fiercely funny female, to hone your chops, and pound the pavement. Sheila leaves no attention to detail out, even smartly dividing the comediennes into categories like "Snarky, Sassy, Super Smarties" and "Courageous, Creative, Character Comics."
Her trailblazers make us rethink, relate, and respect the world of comedy even more. Sheila understands what it means to be a woman of comedy in a largely male-dominated field, (not anymore), delivering a triumphant tribute and powerful look into the future of comedy. Leaving us feeling a little bit better, empowered, and a whole lot lighter. Stunningly illustrated by Anne Bentley, this book is a sublime gift to lovers of comedy, women and future feminists. Women, especially ones with a ridiculous sense of humor, can, in fact, and do rule the world." – Jacqueline Cioffa, Mental Health Advocate and bestselling author of THE RED BENCH, THE VAST LANDSCAPE and GEORGIA PINE
---
Sheila Moeschen, PhD, is a Boston-based gender and pop-culture writer. After graduating with a Doctorate in Gender and Theatre Studies from Northwestern University and doing a stint in academia teaching about the history of American humor, gender and comedy, she took her passion for and interest in comedy to the stage where she learned and performed improv and sketch in the Boston comedy scene.
She has also brought her comedy skills beyond the theater, running wellness and creativity workshops that incorporate the tools and benefits of improv and humor. Sheila has been involved with the annual Women In Comedy Festival (WICF) since its inception in 2008, working behind the scenes to support the event, which has featured and broken out some of the biggest names in comedy today.
For more information on Sheila and her work, please see her website, or connect with her on Facebook, Twitter, and Instagram.
---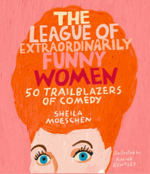 The League of Extraordinarily Funny Women: 50 Trailblazers of Comedy:The League of Extraordinarily Funny Women celebrates the outstanding contributions of women in comedy past and present. From icons like Lucille Ball, Joan Rivers, and Tina Fey to current comedy heroes like Issa Rae, Lena Waithe, and Tig Notaro, The League charts a rich lineage of women using humor to speak truth to power, to challenge the status quo, and to lift people up through laughter.
Some of these women broke boundaries as pioneers on stage as well as in front of and behind the camera. Others penned their way into the history of American humor, redrawing the boundaries of writers' rooms to include diverse voices and perspectives.
Through their collective work as stand-up, sketch and improv comics, humor writers, and slapstick film stars, these women formed a network forged by creativity, guts, and a deep love of what comedy can do and be. In the process, the ladies of The League continue to pass their knowledge and insights from woman to woman, from funny generation to funny generation, in a secret handshake of sorts offering support, inspiration, and, above all, laughter.
Available at Running Press, Amazon, and wherever books are sold.